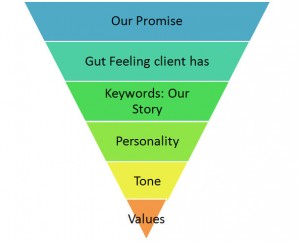 Brand Story
As promised here is another Friday Integrated Marketing Communications tools and curriculum post!
Ever wondered why some brands, companies, start-ups stories go viral so easily, so quickly?
Perhaps it's the brand story. Perhaps it's the power of their story.
Here's a quick primer on the elements to telling your business, organization or personal story.
And below I've added another visual as this is the path of creation I use to create a brand story and to develop and execute it.
Brand Story
1. Brand Promise: What are you promising the client? 3-7 words.
Ex: Seattle Metropolitan Grill: Seattle's Best Steak
2. The Gut Feeling your client is left with after they experience your products and services. What is the client really looking for ( the emotional desire they want satisfied)
Ex: Turbo Tax: Relief
3. Keywords: What words do you want to own; show up on page one of search and be found around online? What are the specific words you can win and that you can build a tribe from. And then all the long tail words from these?
Ex: Lakecity Way Auto Repair Shop: Seattle; auto repair, car repair, auto body shop ( just a body shop or windshield replacement much different- but auto repair is 2 to 1 over car repair- so look at Google Keyword Tool Box to review search tendencies and Google insights/trends and then there are tools to review how hard it will be to un-seat the current page one players on your targeted words…
4-6.The brand personified and defined.
Develop an entire persona for the brand. Likes, dislikes, interests, affinities, passions, beliefs, values, tone of voice, mantra's and the visuals that best represent it.
Ex: Jack @ Jack in the Box: This guy has a persona. He is always doing something new but he is who he is and over time you trust him you know what he's going to look like, his tone, his attitude and his way of being.
After I've completed an exhaustive overview of the venture, organization or company we create an Integrated Marketing communications Overview that serves as our filter for all future communications. We are going to creatively innovate time and time again, but the brand; the gut feeling the essence of the organization, business, expert and or venture will not change….
Name of Company:
Vision:
Mission:
Url:
The Gut Feeling Client Has after they use our product/service
Brand Promise:
Elements of Differentiation:
The Client Segments:
The Big Idea:
Products/Services
Key words we want to SEO/SMO
The 20 key words of our Story:
Our Story:
Colors:
Feel of brand:
Tone Of Brand:
Mantra's
Personality Of Brand:
Icon's/Symbols/Visuals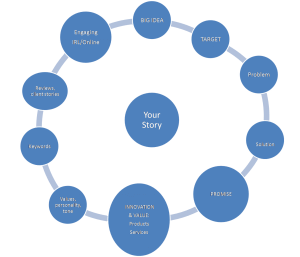 Brand Story
Click on visual to see!
Pam Hoelzle
Seattle Business Consultant
pam @ pam hoelzle.com