So does the world really need another coffee shop? And furthermore, does Kirkland Washington need another espresso shop?
Probably not.
But the world, Kirkland included is desperate for innovative, courageous, uninhibited, audacious entrepreneurs like Adam Olsen of Caffe Rococo a gourmet coffee roaster and coffee shop now open at 136 Park Lane in Kirkland.
Audacious.
What I love about Caffe Rococo is that Adam and his partner Seth have thought and executed outside of the coffee industry box. They have blue ocean strategy brains and the CHUTZPAH to execute a new venture in an economy that gives even the most brave hearted among us, night sweats. Adam and Seth have extensive resume's in the coffee and restaurant business, other ventures in Colorado and have been roasting their own espresso beans for three years.
As I've told you before innovation and differentiation begins in the business model, the recipe you design. Entrepreneurs think differently. They show up solutions to problems and seize opportunities.
Rococo Coffee understands the challenge in the coffee business is in the numbers. Every business has key economic numbers that drive the ROI and the viability of the venture. Yes, you've got to have great tasting cofee and killer customer service (Rococo excels at both) but that's not enough to make it in the coffee shop business you've also got to have volume and or multiple revenue streams. But the challenge is, how do you do this without diluting one's brand and concentration? ( Think major Seattle coffee roaster that has sold just about everything except for string bikini's.)
Caffe Rococo is a coffee shop, espresso roasting, coffee roaster innovator. It offer's higher quality, local, artisan roasted espresso beans served up in it's own proprietary espresso's, latte's and Americano's at a lower price than it's competitors. AND as a wholesale coffee roaster Rococo has built a model that scales and grows without continual fixed cost increases. To boot, Adam and Seth are totally in sync with and capitalizing on the growing consumer demand for local products. (In addition to fair trade coffee we will soon have LEED certified coffee; coffee roasted within 500 miles of where we sip it!)
Coffee Bean Roaster
Behind the barista at Cafe Rococo sits the gourmet coffee roaster. So not only can you enjoy some of the best espresso beans around, you can also meet a new friend like Water Jossart , CFA at Aegis all while enjoying the aroma of freshly roasted espresso beans.
Now all we need is espresso bubble bath!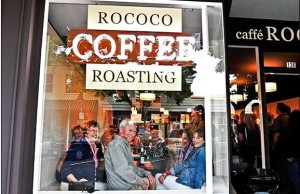 Ambience & Care
Here's a little peek inside Caffe Rococo. The photo was taken by Don McGehe during the pre-opening festivities. What you'll find at Caffee Rococo is a staff that wants to learn your name and shows they care, superior espresso drinks, scrumptious pastries (that are not from COSTCO, thank GOD!) free Wi-Fi, convenient parking and a beautiful decorated and intimately lit space.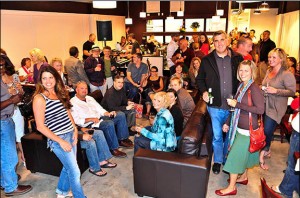 Entrepreneur Inspiration
Entrepreneurs and innovative solutions are the bailout. You and I – showing up to serve- others and solve market opportunities and problems, that's the bailout.
Think different. Think outside of the box. Find a problem and solve it. Use your life to add value.
And join me as I raise my glass ( swear I only had one; glass that is!) to an inspiring local entrepreneur; Adam Olsen and Caffe Rococo. A model of entrepreneurship we can all get behind.
Now click here to order Rococo coffee online. Or stop in at 136 Park Lane and say hi to Adam and his team. Want to know more about me? Click here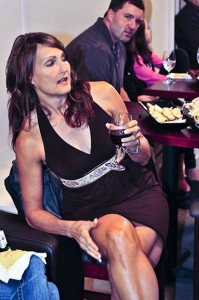 Pam Hoelzle
Business Coach. Espresso Drinker. Marketer. Professor.
Team to entrepreneurs growing their dreams!
425 218 5864